Mario Kart Tour
4 min read
Mario Kart Tour – Controller Support & Custom Controls Guide
Mario Kart Tour is the latest in a recent spate of 'big' mobile games that seek to capture every mobile gamer's time (and money), following in the wake of Harry Potter: Wizard's Unite and Pokemon Masters. It won't be the last either, but for now it's here and I imagine you'll want to make the most of it. It's a 'lite' racing game and has lots of players competing against each other to try and get the top-score on a track to earn points, Grand Stars and Coins.
Mario Kart Tour is 'Free-to-Start', the full meaning of which is unclear but one thing we do know is that there is a subscription pass you can buy, if you want.
While trying to beat your friends to the finish line, you might find that the touchscreen controls are a little bit tricky to get the hang of. If this is you, you're not alone. In fact, a lot of players are wondering about Mario Kart Tour controller support and custom controls, and where there's a question, Pocket Tactics has the answer.
Is There Mario Kart Tour Controller Support?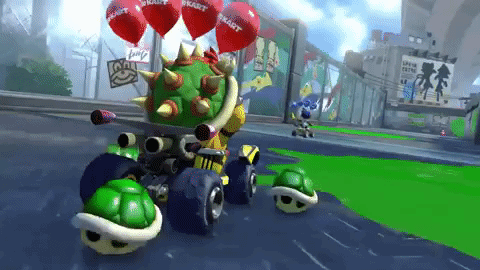 There are tons of questions surrounding Mario Kart Tour right now, including questions about controller support. If you've played the game for any amount of time, you're likely aware that the controls are a little bit touchy. While the touchscreen controls may not be too tricky to get the hang of if you're used to mobile gaming, it can be a steep learning curve for newcomers and might make their playing experience less than stellar.
Since console gamers are used to a controller and not touch controls, it only
seems natural that questions about Mario Kart Tour controller support questions are arising. Unfortunately, unlike a lot of mobile games these days, there is no controller support for Mario Kart Tour. While it could come to the game in a future update, there is currently no support for controller play.
What Mario Kart Tour Custom Controls Should I Use?
Since there isn't any Mario Kart Tour controller support, the second best alternative is custom controls. When you first launch the game you're given one of two options as to how you want to control your kart – one where you swipe to drift, and another where you swipe to turn. Both have merits but this is not the be-all and end all of Mario Kart Tour controls options. It may sound complicated, but it's actually just a matter of going into the settings and adjusting a few options to fine-tune your experience. There aren't many custom control setup options in Mario Kart Tour, which keeps choices to a minimum.
Below is the custom control setup that I prefer to use in Mario Kart Tour. Of course, you can tweak the controls however you want, but this is the setup that we prefer.
Manual Drift: On
Smart Steering: On
Auto-Item: Off
Gyro Handling: On
As you can see, there are only four types of controls that players can adjust in the game. If you're unfamiliar with them, Manual Drift is essentially the touch screen control which allow players to drift on turns, and one of the options you're presnted with at the start. Gyro Handling allows players to steer their kart by tilting their device.
Smart Steering offers players a little bit of aid while driving and will help keep them on course. Finally, turning Auto-Item off will prevent a new item from replacing your current item when you run into a mystery box. On the other hand, leaving it enabled will allow you to get a new item every time you run into a mystery box, even if you already have one. This one is a matter of taste.
Perhaps the hardest Mario Kart Tour control to get used to is Manual Drift. It can be super touchy at times and it's easy to find yourself going the wrong way on the course in a matter of seconds. This is why I prefer to have Gyro Handling enabled along with Manual Drift. With this setup, I am able to do the majority of my steering by simply tilting my phone. If I need to drift on a turn or want a speed boost, I'll have the option of using Manual Drift. With this setup, Gyro Handling is my main control method while Manual Drift provides support when necessary.
To find the Mario Kart Tour custom control setup that best suits you, you'll likely want to go into the game and try a few different setups for yourself. After a couple of races, you should know which setup suits you best.